Winter Moorings now available: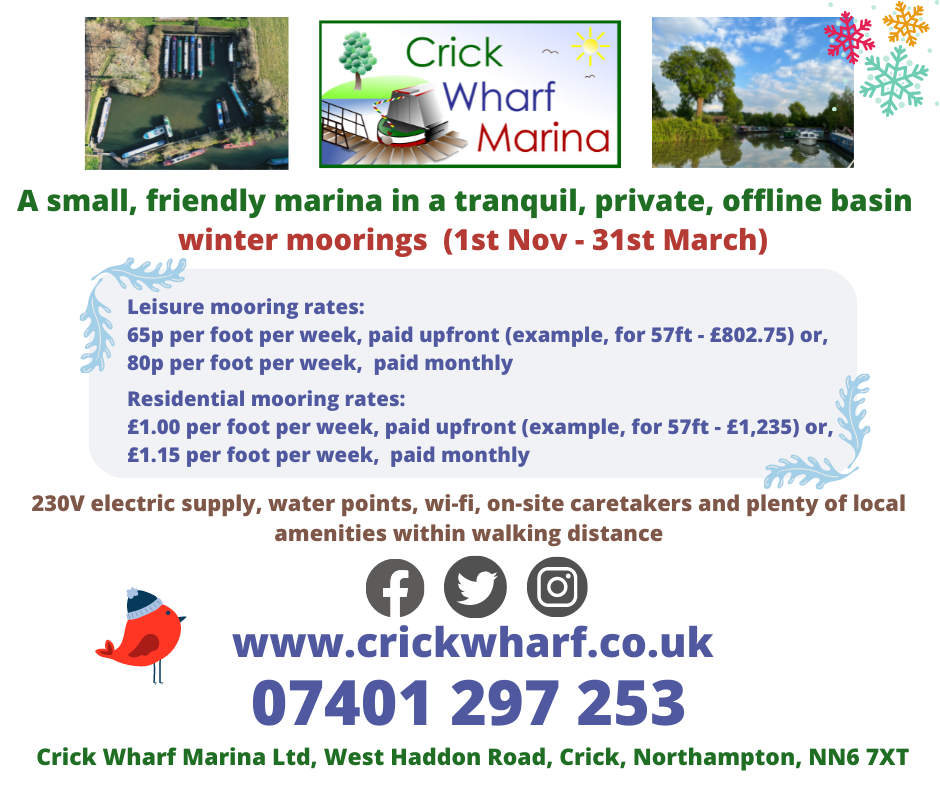 General location:
Crick Wharf Marina retains rural tranquillity, whilst close to the Braunston and Napton hub of the waterways system.
Crick Wharf Marina is within easy walking distance of Crick's pubs and restaurants, with the Post Office & store 400 yards away, and a well-stocked Co-op supermarket 800 yards.
Crick Wharf Marina is also home to Stittle Boat Services, who carry out alterations & repairs, for private clients in an on-site heated and insulated boat building workshop.
Private moorings at Crick Wharf Marina:
Berths are in an offline basin, and include three residential narrowboats. The basin's dimensions limit the lengths of boats that can be accommodated so availability can vary.
Each berth is served by a two-metre stub jetty - boats are moored bow or stern in, with the other end tied to an adjacent boat (albeit swinging free) - so that craft can manoeuvre more easily within the basin's confines. (This arrangement has worked successfully over many years.)
There is a limited supply of 230V, with outlets for each berth, plus night-lit walkways and water points. On-site car parking for moorers.

Canal and River Trust maintains a disposal station for portable chemical cassette toilets nearby.
Diesel & gas along with pump-out & dry dock facilities are available in Crick Marina - just 500 yards away.